Team Information
Overall Rating: 51
Home Arena: The Pond
Home Ice Advantage: Low
Road Ice Disadvantage: Low
Power Play: Insignificant
Penalty Killing: Weak
Goalies
29 Guy Hebert
1 Ron Tugnutt
Forwards
25 Terry Yake
20 Anatoli Semenov
24 Troy Loney
28 Lonnie Loach
27 Steven King
30 Bob Corkum
41 Tim Sweeney
26 Robin Bawa
23 Stu Grimson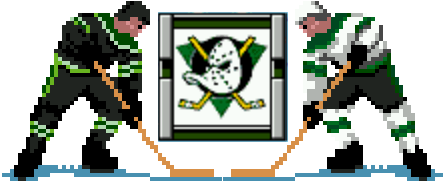 Defensemen
7 Alexei Kasatonov
33 Bill Houlder
39 Randy Ladouceur
38 Sean Hill
3 David Williams
17 Dennis Vial
32 Bobby Dollas
KingRaph's Rating

Overall: Poor
Forwards: Poor
Defensemen: Poor
Goalies: Poor
The following credit goes to AngryJay93, and is from this thread:  Mighty Ducks of Anaheim.
~~~~~~~~~~~~~~~
Team Overview: It doesn't take a long look at the roster here to realize that Ducks are essentially void of any legitimate talent. There is a serious lack of speed, shooting, playmaking, hitting, and goaltending on this team. There isn't a lot that can be done to make this team useable either, so let's just go through the motions here.
Forwards: It doesn't really matter who you are, when the offense has to be carried by Terry Yake, issues are aplenty. Pathetically enough though, this is the strength of the Ducks roster.
Is it NHL '96 yet?:
Semenov-Yake-Loach
Anatoli Semenov: 7 weight, 3/3 skating, 3/3 shot, 3 sth & pass, 3/4 aware, Shoots: L
There are much worse options out there to ask to play as a support winger, Jeff Odgers anyone? Semenov is nothing more then the definition of an average player. He has the bare minimum skills that I ask for in a player to be a starting option, my only beef is that he's a little heavy to start with such an average skill set. Semenov has had some glowing reviews though in the GDL and on the Vancouver roster, but I think that's largely because he isn't being asked to shoulder the load like he is in Anaheim.
Terry Yake: 6 weight, 3/3 skating, 3/4 shot, 3 sth & pass, 4/3 aware, Shoots: R
I'm a major Yake supporter, back in the old days of GDL, I was all about the double Yake and it was a fun, innocent time. But let's face facts, asking Yake to be the #1 option on a team is just plain stupid. Sure, Yake has a nice little shot, and he's pretty adept at filling the lane for a one-timer. Yake is also fairly light and can take a few body checks from the non super-lightweights, but his speed will always hold him back. There just isn't that jaw dropping skill there to make him a dominant player like Brian Bradley has. But, I still love the little guy, he is capable of the amazing at times, and that will be needed to help carry the Ducks to a win.
Lonnie Loach: 6 weight, 2/3 skating, 2/3 shot, 2 sth & 2 pass, 3/2 aware, Shoots: L
Just how bad is Loach you ask? He doesn't even show up on the GDL draft radar, but he starts on the Ducks, if this doesn't illustrate the wretchedness of the Ducks, I don't know what does. Loach's main assets are his weight and speed. He can take advantage of some of the bigger forwards in the league with a nice check and he isn't a complete mess on his skates. On offense, Loach can occasionally set up in a spot by the goaltender and put a slam dunk home, but that is the extent of his skills there. Against fast teams though, this guy will be left in the dust on defense and become an easy target when he has the puck.
There is a severe lack of speed here, it is one of the slowest lines in the game and there simply just isn't enough skill here to put big numbers up in the goal column. The best bet here is hope Yake or Semenov gets hot early and then try to sit on the lead by playing very sound defense. This line is at least fairly light and could hold its own in a slow, grind it out game.
Somehow, Bob Sweeney would be an upgrade:
Semenov-Yake-Sweeney
Tim Sweeney: 5 weight, 2/2 skating, 2/2 shot, 2 sth & 1 pass, 3/2 aware, Shoots: L
Weight. Bug. Whores. Unite! It pains me to even mention this guy, look at that skill set. It's awful! Typically, guys with such a low weight rating are good options to carry the puck up the ice and set up one-timers. Not Sweeney, god no, with such porous skating and passing, he will have enough issues making an accurate pass 5 feet away. But hey, he can hit, provided he gets there, that has to be worth something right?
This combo puts even more onus on Yake and Semenov to provide the offense. If Sweeney contributes in any way on offense or defense though, it's a major coup.
Other Options: Ah, what the hell, lets break down some more scrubs.
Troy Loney: 10 weight, 2/3 skating, 2/1 shot, 2 sth & 1 acc, 2/3 aware, Shoots: L
Looks pretty similar to Sweeney, just a smidge faster with a ton more weight. He is the only other 3 speed option in the forward ranks.
Steven King: 7 weight, 2/2 speed, 2/3 shot, 2 sth & 2 pass, 3/2 aware, Shoots: R
Looking for a right handed "sniper" to replace an injured Loach? There ya go.
Robin Bawa: 11 weight, 2/2 speed, 2/4 shot, 1 sth & 2 pass, 1/1 aware. Shoots: R
Yake in the box? Semenov on a stretcher? Loney in the loony bin? Sucker for shot Accuracy? Take some Bawa.
Stu Grimson: 11 weight, 1/1 skating, 1/1 shot, 1 sth & pass, 0/2 aware, Shoots: Who Cares?
If playing with line changes, double shift Yake.
Forwards: 2/10
Defense: Abysmal, yeah, that pretty much covers it.
Kasatonov-Hill
Alexei Kasatonov: 11 weight, 4/3 skating, 4/1 shot, 4 sth & pass, 2/3 aware, Shoots: L
If it weren't for Kasatonov being such a softie, he'd actually be pretty useful with all those pucks skills he has at his disposal. Alas, they are wasted and Kasatonov is nothing more than a mediocre #3 D-man option, which for Anaheim, isn't all that bad. But, Kasatonov can have his moments though, he is a very able passer and if there is ever a good breakaway chance to be had, he is more than capable of springing it.
Sean Hill: 8 weight, 2/2 skating, 2/1 shot, 2 sth & 1 pass, 2/2 aware, Shoots: R
Another starter that doesn't register on the GDL draft radar, Hill is still somehow an option for the Ducks though. The Ducks have a boatload of 11 weight defenders; Hill's biggest strength is that he is a non-11 weight defender. Everything else for Hill is a weakness; even playing on his natural side can't help his passing much.
This is bad, real bad. A lack of speed and weight advantage makes checking and chasing down breakaways a futile exercise. Most teams should have a field day against the Ducks top defensive pair.
Ladoucer-Kasatonov
Randy Ladoucer: 11 weight, 3/3 skating, 1/1 shot, 2 sth & 1 pass, 1/3 aware, Shoots: L
Ladoucer is the only other average skater on the Ducks blue line, but his massive weight mitigates any gains realized there. Another horrid passer, Ladoucer can play his natural left side which allows Kastatonov to slide over to the right and hopefully bring his slapper more into play. Ladoucer has no business carrying the puck into the offensive zone as that will only end tragically.
Other Options: Again, none of these guys are draft worthy, but I have a word quota to fill.
Bill Houlder: 11 weight, 3/2 skating, 2/2 shot, 2 sth & pass, 3/3 aware, Shoots: L
Houlder provides a bit more passing then the rest of the Duck defenders, but everything else is pretty crappy.
David Williams: 8 weight, 2/2 skating, 2/0 shot, 2 sth & 1 pass, 2/2 aware, Shoots: R
A Sean Hill clone, oh joy!
Dennis Vial: 11 weight, 1/1 skating, 1/0 shot, 1 sth & pass, 1/ 2 aware, Shoots: L
Waive him.
Defense Rating: .5/10
Goalie Zone: It's a good thing goalies don't get injured, otherwise there might be some serious whiplash for Guy Hebert and Ron Tugnutt.
Guy Hebert: 6 weight, 2/3 skating, 3/3 aware, 2 puck control, 2/2/2/2 save
Ron Tugnutt: 2 weight, 2/3 skating, 3/3 aware, 1 puck control, 1/1/1/2
Both are porous skaters who have disgustingly bad save ratings. Tugnutt might be a bit easier to use in manual due to his very light weight, but he gives out some extremely juicy rebounds on slappers. No matter what, goals will be conceded.
Goalie Rating: 1/10
Bottom Line: The Ducks get my vote for the worst team in the game. They don't have a skater with 4 speed, the only team in the game that can say such a thing. They lack a legitimate defender and a passable goalie as well which only compounds the problem. There isn't any real reason to pick this team in the Classic League much less an exhibition match.
CB Notes
Forwards
Anatoli Semenov, Terry Yake, & Lonnie Loach: As if it wasn't enough of a battle already for Anaheim to score, they will have to put in more work to stay productive as these slow middleweight forwards have just become that much more accessible to heavyweights. These three players are still the most skilled and deserve the most ice time but Loach may need to be removed from the line in certain situations to insert a little extra muscle.
Tim Sweeney:  If he wasn't useless before, he is surely useless now as Sweeney's lack of any hockey skill cancels out whatever damage his 5 weight may able to do defensively. Guys like Loach or Loney can bring similar checking ability with more speed and a modicum of offensive talent.
Troy Loney: It's hard to say Loney makes Anaheim interesting but he can make them tricky to play against in the hands of a skilled CB checker. His 10 weight paired with a back line composed of a couple of 11 weights could really make life hell for a slower skilled team such as Toronto or even Boston. Loney will have some substantial issues getting going on offense but the Ducks don't want to get in a high scoring battle to begin with.
Robin Bawa: Considering just how lackluster the lineup is here, it isn't totally bonkers to give Bawa some run as he is a CB checking option if he can get in the neighborhood. His shot can be useful but the guy has no business carrying the puck up the ice as he doesn't have the skating, passing, OR stick handling to do him any favors. He's going to have to find his niche to be anywhere near useful.
Defense
Alexei Kasatonov: Things have taken a turn for the better with the Anaheim defense and the primary example of this is Kasatonov's transformation into a respectable defenseman. He will still have too many issues to be an offensive force inside the opponents blue line but he should be more than apt at throwing his body weight around and dishing out effective outlet passes. With 4 agility and 11 weight, Kasatonov should be able to throw his fair share of CB checks out, especially to the heavyweights in the center of the ice. He won't be quite the kick starter Gord Murphy is to Florida but Kasatonov will be doing yeoman's work for the Ducks.
Sean Hill, David Williams: Previously, these two were only under consideration due to their 8 weight as that was as light as things could get on defense. Now these two are the only right handed defenders available and could still warrant some consideration due to that fact but they really should be left on the bench as there is a more mobile option available to CB check the opposition and Kasatonov is perfectly capable of filling in the right side with his far superior puck skills.
Randy Ladoucer: There is no denying that Ladoucer, even with CB put into consideration is still among the dregs of the defender profession in '94. The average skating is what puts Ladocuer into consideration as he is just mobile enough to pose a threat to most forwards that venture into the Ducks defensive zone. He will still kill the team when the puck is on his stick but he could be a key defensive stopper and is probably best off being paired with Kasatonov.
Bill Houlder: Houlder is likely the best bet to come first off the bench. His 11 weight and superior skill set to the rest of the Ducks depth should be enough to get him some ice time on the PK.
Bottom Line
Much like Hartford, the Ducks took their hits on offense as a pop gun attack becomes even less potent as there is not enough speed or skill to offset their susceptibility to most any type of defense. 
Where things get interesting is on defense as now the Ducks can ice 3 average skating CB monsters that will allow them to stay in close games and perhaps encourage opponents to ice lighter and less skilled players if their power forwards get roughed up. While the Ducks are probably still the worst team in the league, they now have some match ups against some of the middle tier teams which they don't get destroyed in any longer.
~~~~~~~~~~~
PLAYER ATTRIBUTES
| Ovr | First | Last | Team | Pos | Hnd | JNo | Wgt | ShP | ShA | Spd | Agl | StH | Pas | OfA | DfA | ChK |
| --- | --- | --- | --- | --- | --- | --- | --- | --- | --- | --- | --- | --- | --- | --- | --- | --- |
| 66 | Terry | Yake | ANH | F | R | 25 | 6 | 3 | 4 | 3 | 3 | 3 | 3 | 4 | 3 | 3 |
| 62 | Alexei | Kasatonov | ANH | D | L | 7 | 11 | 4 | 1 | 3 | 4 | 4 | 4 | 2 | 3 | 4 |
| 61 | Anatoli | Semenov | ANH | F | L | 20 | 7 | 3 | 3 | 3 | 3 | 3 | 3 | 3 | 4 | 2 |
| 49 | Lonnie | Loach | ANH | F | L | 28 | 6 | 2 | 3 | 3 | 2 | 2 | 2 | 3 | 2 | 2 |
| 49 | Bill | Houlder | ANH | D | L | 33 | 11 | 2 | 2 | 2 | 3 | 2 | 2 | 3 | 3 | 3 |
| 48 | Troy | Loney | ANH | F | L | 24 | 10 | 2 | 1 | 3 | 2 | 2 | 1 | 2 | 3 | 4 |
| 47 | Steven | King | ANH | F | R | 27 | 7 | 2 | 3 | 2 | 2 | 2 | 2 | 3 | 2 | 1 |
| 45 | Guy | Hebert | ANH | G | L | 29 | 6 | 2 | 0 | 3 | 2 | 0 | 2 | 3 | 3 | 0 |
| 45 | Bob | Corkum | ANH | F | R | 30 | 10 | 2 | 2 | 2 | 2 | 2 | 2 | 1 | 3 | 2 |
| 45 | Randy | Ladouceur | ANH | D | L | 39 | 11 | 1 | 1 | 3 | 3 | 2 | 1 | 1 | 3 | 2 |
| 44 | Tim | Sweeney | ANH | F | L | 41 | 5 | 2 | 2 | 2 | 2 | 2 | 1 | 3 | 2 | 1 |
| 44 | Sean | Hill | ANH | D | R | 38 | 8 | 2 | 1 | 2 | 2 | 2 | 1 | 2 | 2 | 3 |
| 42 | David | Williams | ANH | D | R | 3 | 8 | 2 | 0 | 2 | 2 | 2 | 1 | 2 | 2 | 2 |
| 41 | Ron | Tugnutt | ANH | G | L | 1 | 2 | 1 | 0 | 3 | 2 | 0 | 1 | 3 | 3 | 0 |
| 41 | Robin | Bawa | ANH | F | R | 26 | 11 | 2 | 4 | 2 | 2 | 1 | 2 | 1 | 1 | 1 |
| 37 | Stu | Grimson | ANH | F | L | 23 | 11 | 1 | 1 | 1 | 1 | 1 | 1 | 0 | 2 | 3 |
| 37 | Bobby | Dollas | ANH | D | R | 32 | 11 | 1 | 0 | 1 | 2 | 1 | 1 | 1 | 2 | 2 |
| 37 | Dennis | Vial | ANH | D | L | 17 | 11 | 1 | 0 | 1 | 1 | 1 | 1 | 1 | 2 | 3 |